History
TheBekins story began during the 19th century when Sjoerd Bekuis emigratedto America. Sjoerd settled in Michigan, married his wife Tiertje, and raised a family of 13 children in a community of Dutch farmers. It was his 5th child, Martin who founded the business.
In 1880, Martin Americanized his name to Bekins and was the first to leave the family farm. He settled in Grand Rapids where he was soon joined by his brother John. They both got jobs driving freight wagons during the day and attended school at night. Having learned the fundamentals of thecartage business, they set out to make it their life's work. Over the following years, the brothers were one of the pioneers in "inventing" the Moving and Storage business as we know it today.
In1891, they formed Bekins Van Lines with Sioux City, Iowa as their headquarters. With only 12 employees, 3 horse drawn carriages and a single warehouse, Bekins averaged 1 - 2 moves per day. During the next decade, and following the westward movement, they opened offices in Omaha, Los Angeles and Chicago.
BekinsMoving and Storage was the first company to specialize in moving household goods, and in 1903, was the first to introduce covered moving vans and motor trucks to the west coast. The original fleet consisted oftwo trucks powered by two-cylinder, air-cooled engines. By the end of WW1, Bekins had disposed of its last horse drawn van. Bekins also built one of the first reinforced steel and concrete warehouse for storing household goods.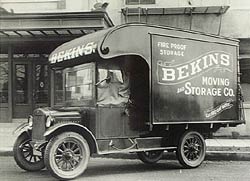 In1903, Daniel Bekins, the youngest of the Sjoerd Bekius clan, expanded the family operation to Seattle, and established Bekins Northwest. It was in 1924, that Daniel established Bekins first Canadian office in Vancouver, BC. He purchased what was later to be known as "The Sun Building", at Pender and Beatty. It was and still remains an impressive structure, and it was the tallest building in the British Commonwealth when it was built in 1913. By the early 1930's, Daniel had expanded Bekins Northwest to include facilities in Portland, Tacoma, Spokane, andDenver. During this time Bekins established one of Western Canada's first fleet of motorized moving vehicles, and road conditions were at best primitive. Bekins determination to provide the finest quality of service resulted in a Canadian fleet that was second to none in the Canadian Moving Industry.
In 1935, Daniel Bekins, nearing retirement, put his five sons in charge of Bekins Northwest.
In1937, Bekins sold its original Vancouver building to the Vancouver Sun.Bekins then built its "new" facility at the west end of he Burrard bridge, more specifically at Chestnut and York Streets. It was a state of the art facility in its time, and served as the head office for the Canadian operation for over 40 years. It still stands today, acting as aCanadian Tire store. In 1956, Bekins built a second warehouse, this time at Kingsway and Wilson in Burnaby, where Metrotown now sits. Duringthis time, Daniel's son Stanley took over as president of the company. Stanley Bekins built up by far,one of the largest moverin Canada, before retiring and selling the company in 1982 to the BaronGroup of Toronto, who then became, one of the largest mover in Canada. It was at this time that Bekins changed van line affiliations, leaving Allied Van Lines after 40 years to join United Van Lines.
TheBaron Group subsequently sold the two Bekins buildings in 1983 and custom designed and built a 42,000 square foot building on three acres at Crestwood Corporate Center in Richmond. In 1993, the Richmond head office of Bekins Moving and Storage was acquired by Larry and Sharon Rosenberg, who have now returned the company to a locally owned, family business.
In 1995, the Rosenberg's, along with their company Arbutus Transfer Ltd., acquired Cantin's Moving and Storage, a long time member of United Van Lines. It was at this time that Arbutus Transfer also became a member ofUnited Van Lines. In 1997 we moved our head office to Burrows Road in Richmond, BC. Today our facility is one of the largest of its kind in Canada, and provides our customers with an optimal environment for storage of their household effects. Also in 1997, Bekins Worldwide was formed, which provides moving and freight forwarding services to and from all points in the world. In 1998, all three of the operating companies amalgamated into Bekins Moving and Storage (Canada) Ltd.
Throughthe years since the Canadian company's inception in 1924, five generations of Canadians have realized the benefits of Bekins policy of retaining a constantly updated fleet of vehicles, maintained in the bestmechanical condition, clean and properly equipped, along with skilled and experienced moving and packing crews to meet their every requirement. In addition to its Richmond head office, Bekins Moving and Storage has branch offices in Victoria, Parksvile, Campbell River and Prince George, all of which are proud members of United Van Lines (Canada) Ltd., who, as Canada's largest van line, is represented by member companies in over 200 centers across the country.
Forover one hundred years, hundreds of thousands of families and businesses have trusted their valued possessions to the professionals atBekins Moving and Storage when relocating. It's a history we are very proud of.